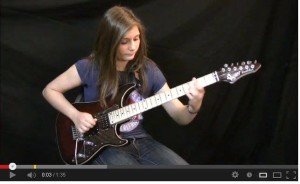 Tina "Eruption" guitar solo : Don't lose this video!!!
Everyday we are overwhelmed by any kind of new videos and sometimes we risk to lose something fantastic like this.
I usually don't pay much attention to the many covers of classic rock artists that populate Facebook. But when this one was "shared" with me, I paid so much attention I've watched it three times.
Her name is Tina. She is 14 years old. You have to see it to believe it.
The first thing I've said, watching Tina's video, has been: WOW!!!
The second: "Talents like this have to be known!
Watch Tina shred "Eruption"
For comparison purposes,watch EVH shred "Eruption"
Okay, back story time.
"Eruption" was an accident (much like the accident Joe Walsh had when "Life in the Fast Lane" came into being and the one Ritchie Blackmore had with what became "Smoke on the Water.") EVH was in the studio rehearsing, just doing exercises of no song in particular. As he fooled around limbering up his fingers, the producer strolled in, heard it, recorded it, and the rest became history after "Eruption" appeared on Van Halen's debut album (cut #2, right after "Runnin' With the Devil") and became Eddie's signature solo.
For Van Halen "Eruption" was a lucky accident, for Tina it might become an opportunity. How?
Share this video!
We are not all producers, but people that love this music, with a big power: we are the Audience.
Tina "Eruption" guitar solo is overwhelming!  Share this treasure, in the hope someone, among us, may start up a fantastic launch of a real talent.
Let's go to share, while I go watch this prodigy again.
Go to the original post written by Dave White